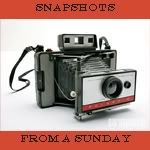 Yesterday I was honored to participate in Cari Donaldson's first ever
"Snapshots of a Sunday."
Here's what it's all about in Cari's own words:
1. Each participant would be assigned one hour today, Sunday, October 23rd.
2. In that hour, they needed to take a picture, posed or candid, of people or objects, anything that would
provide a glimpse into their life in that particular moment.
3. They would then process the photo however they wanted, email it to me, and once I had the day's
worth of pictures, I would string them together in chronological order in a post.
What a fun idea! Now,
go check out all the fun photos
!